This is a bike blog, in case you haven't noticed. Yes, it started out as just a personal training log, but I wanted to make it
so much more!
As such, I've been flexing my blogging muscles, trying to network with other bloggers and hopefully meet a few other geeky bicycle enthusiasts. Yesterday at the NEPABlogCon seemed like a perfect opportunity for just that.
Some of the first folks I ran into were some old friends of mine, Mark Hunsinger and Leslie Stewart from
Blue Owl Web
,
DarlingStewie
and a host of others. I've known Leslie since at least 2003 -- which was at least 4 or 5 blogs ago. (I've been blogging, and failing at blogging, for a long time!) Leslie is also part of the "
Fearsome Foursome
," who got NEPABlogCon off the ground.
Once I grabbed a swag bag and headed through the door, I saw another friend of mine, Jason Percival, owner of
NEPA Geeks
. (If you need an iPhone repaired, or any other kind of tech work done, this is definitely the cat to see.) Unfortunately, he couldn't stay the whole day, but it was great just to see him again.
I was glad to see a few other familiar faces, but also glad to meet some new ones.
As you can tell by the lack of photos on this post, I did a real bang up job of not taking pictures, so I'm linking to photos other people took, like this one from
Mandy Boyle
: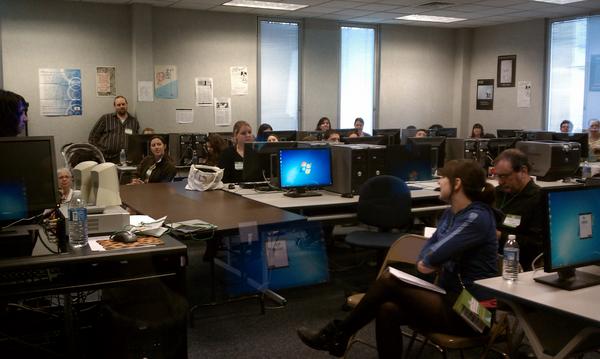 Blergh Kern
Great shot, Mandy! Another member of the "Fearsome Foursome."
Moving right along, but not so footloose and fancy free, we gathered in the Bloggy Boudoir for the keynote, presented by
Gala Darling
. Following that was a Q&A with Gala from New York, via Skype. Of course, the Skype call started out as an excellent re-enactment of
every Skype call ever
-- basically, technical difficulties, a lot of, "Can you hear me nows?" and then just typing questions for her to answer live. At least we could see and hear her without any problems.
For the most part, I just stuck with the panels that I was interested in. Anything that had to do with monetizing blogs, building an audience or SEO and keyword stuff, I wanted to know about. Search Engine Optimization is one of those things I feel like I read about the most, yet understand the least.
If I got any lessons out of this convention, though, it was to stop worrying about that stuff and focus on creating content and writing about topics I'm passionate about. So, more or less, blogging and bicycles, bicycles and blogging. That's me.
Unfortunately, I didn't get to meet too many people in my niche (that niche being, people who ride bicycles either on the roads or trails of North-East Pennsylvania). But there were a few who were closely related. For example, Glenn Kipps who runs
CheapCampsites.net
seems like he would have some good ideas for people who are interested in cheap campsites. Say, people on a cross-country bike trip, for example.
Then there's
Alicia Magda
who has a blog at
http://www.runningful.com/
and told us quite a bit about SEO in her presentation at BlogCon. Probably the best thing about this panel was getting answers to questions I've wondered about for a long time. Not only that, it was wonderful to look around and see a room full of people who worry and fret about this stuff as much as I do. It was great to know that I'm not the only person who stays up until the wee hours of the morning, poring over search results, keywords and other stats to gain some kind of insight into how people find my site and the best ways to take advantage of that.
Despite the difference in our activities, her blog is definitely worth adding to your RSS feed reader, especially for posts like this one on
Top Foods for Runners
. Plenty of advice and motivational posts to be found, as well.
Our lunch was made very interesting by a group of geek bellydancers called
Antipode
dancing to various internet memes.
Antipode - geek belly dancers.
Of course I got a picture of that.
Pictures of friends and colleagues? Nope. Pictures of women with bare midriffs? Totes, for sure.
Probably the panel I gleamed the most information from was one on content strategy that was presented by
Shannon Nelson
from
AGirlsGottaSpa.com
and
Jessie Holeva
from
TrendHungry.com
.
They focused on the importance of organizing content, finding topics to write about, getting people to link to you and quite a few other nuggets of wisdom that really got the gears cranking. Talking about ways to generate new ideas and how to make them happen is one of the best ways I've found to get inspired and keep motivated. It was a great panel.
Lauren O'Nizzle
from
http://laurenoutloud.com/main/
had a fun panel on community management, including a sad story about her bicycle that someone, apparently, tried kicking to death and bent the wheel. Kids, don't kick people's bikes to death. That's seriously uncool, ok?
Finally,
Kris Jones
, founder and former CEO of
Pepperjam
had a lot of great information on how to monetize a blog, and then I was on my way home.
Part of me really wanted to attend the after-party, but my head was buzzing with so many ideas that I just couldn't wait to get home and put some plans into motion. Again, I wish I could have met more people in my niche (even if just to organize some group rides) but it was such a great experience just to be there.
Thanks again to Leslie for telling me about
the contest that won me a ticket to NEPA BlogCon
and to everyone else who helped make it happen. See you all next year!